| | |
| --- | --- |
| Posted by sunshine-dayhome on September 11, 2015 at 2:50 PM | |
I love living in Canada because of how the seasons change, and the gifts and opportunities each one affords us. This week, the children noticed acorns on the grounds when we were on a walk, so we decided to set a date to return, armed with baskets, and begin collecting. Last year, we created acorn snakes and jingly bells with these free, natural delights; this year we will turn some into bracelets and use others for - acorn flour!
The children listened very well, and stayed on the sidewalk as I requested. I was quite impresses because nobody popped an acorn into their mouth. The youngest children liked shaking the acorns around their baskets, and collecting and then dumping, while the older ones were intent on finding as many of the biggest and best acorns that they could.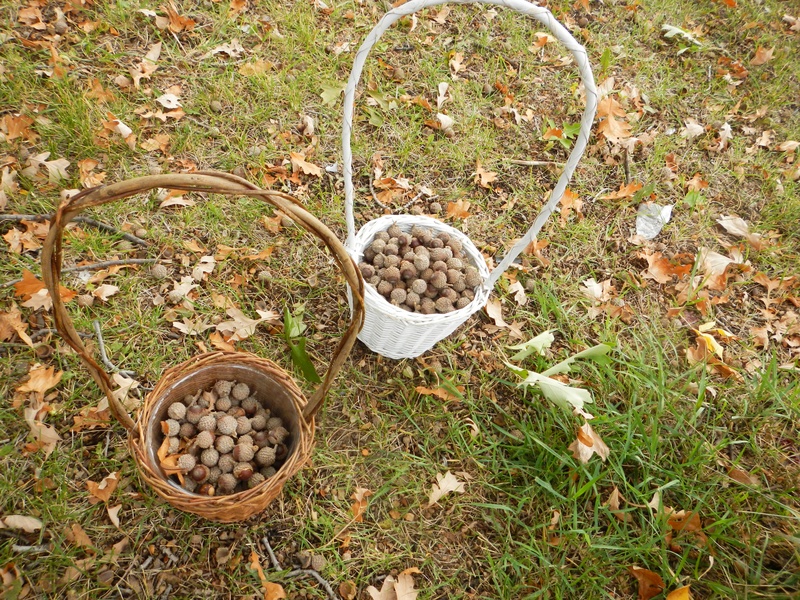 We set off home with our treasures, and bagged them up to send with families. The others I baked at a low temperature to aid in the cracking, and then we set about the laborious task of cracking open the hard acorns. A hammer or rock worked best, and it turned out that just Kaliana and Kai chad the strength and motor control to break their shells, though Ben and even Nixon can open the shells once they have cracked.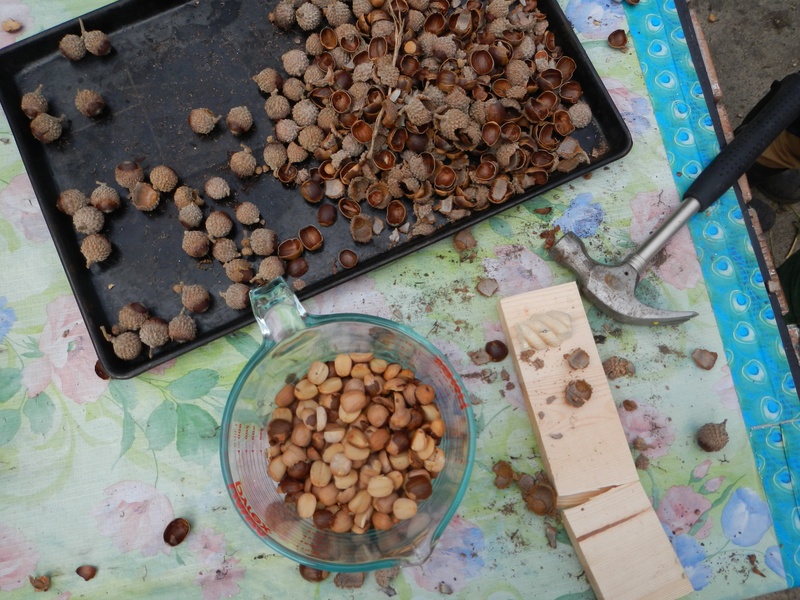 When we tired of shelling acorns, it was time to boil them, to take out the tannins. To shorten the process, it is recommended to chop the up a bit, which I did with blender. Boil and strain, boil and strain, repeat! Finally, the acorn pieces were ready for baking. Long and low does the trick, to avoid burning the meat of the nut. When they were fully roasted, I tried a taste: delicious! They had such a mid flavor that I wondered if perhaps I had over-boiled them; next year I may do that step only once, or skip it all together. Finally, I ground up the crisp bits some more in the blender, and we will process these last shards once more in the grain mill (think repurposed coffee grinder) before baking it into bread next Wednesday - check back for an update! This final photo is the toasted acorns before grinding.